1986/1987 Fleer Basketball#8 Michael Jordan'86 Sticker Set Card VG/EX Condition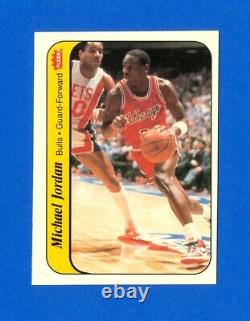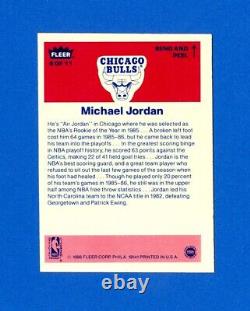 Card appears to be in VG/EX Condition. Back card surface has a slight vertical wrinkle crease (about 1 long that goes through the G and the S in CHICAGO BULLS of the Bull logo on the top of the back of the card, crease starts at the bottom of the very top white border and fizzles out right about at the top of the right eye of the bull face logo). There are also a few indent marks on the back (very minor -- one very small diagonal one just inside from the bottom back left corner and also one poke mark indentation mark just in from the very back bottom right corner). Color is excellent too (rich, not sun-damaged or faded).
Also a minor factory indentation mark on the left side front edge (and a small fingernail nick on the very top of the back edge). Card also displays little if any of the typical factory wax residue on the back. All cards measure full-size (and no alterations or corner re-coloration has taken place whatsoever) and there are no stains.

---